What is Keyword?
Keyword is a word game, with a new puzzle every day. It's a quick spin on a crossword, where you guess a six-letter keyword to complete six horizontal words.
Where can I play Keyword?
Keyword can be found here.
How do I play Keyword?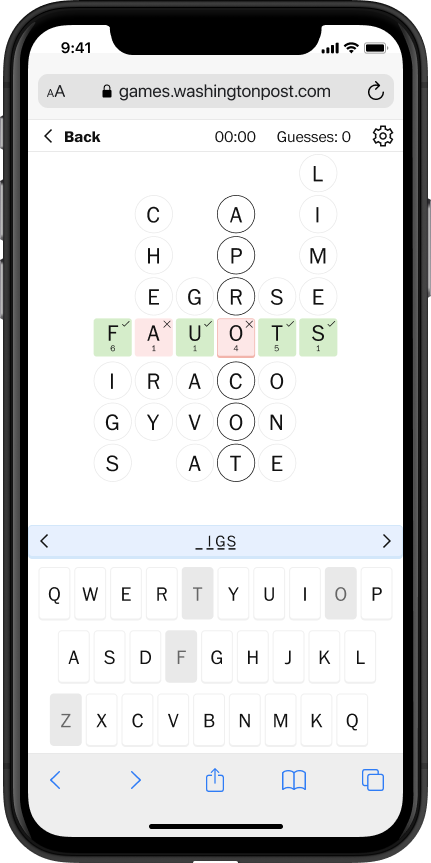 Guess the 6-letter keyword. Letters must spell words across and down.
The goal is to get the keyword in the fewest guesses and fastest time. A perfect score is 6 guesses.
What do the different squares and circles mean?
To guess a letter, select a square.
This letter hasn't been guessed yet.
This letter is selected.
W is in a selected word.
I is correct in 3 guesses.
N is incorrect after 1 guess. Try again.
How does the score summary screen work?
The score summary screen appears after a completed keyword. It shows your total plays, average guesses, and average time for all keywords solved. It also summarizes keywords from the last 7 days and lets you play recent keywords you missed.
When is there a keyword?
There is a new keyword every day.
I feel like my score is wrong, or my score wasn't recorded.
Things that can affect your score include:
Using a different phone, computer, or other device

Using a different internet browser

Using a browser inside another app, like Facebook, Twitter, etc.

Using an ad blocker or privacy tool
To record your scores, you must use the same phone, computer, or other device, as well as the same internet browser. Examples of internet browsers include Safari, Chrome, Firefox, etc.
How can I earn a perfect score?
A perfect score is 6 guesses.
Can I play past keywords?
Yes, you can play all keywords you missed from the past 7 days.
I have a question about Keyword and data.
Deleting cookies from your internet browser will delete Keyword score data.
For additional questions about privacy and The Washington Post, please contact our Help Center or email us at privacy@washpost.com.
I have a different question or issue.
Please contact our Help Center.